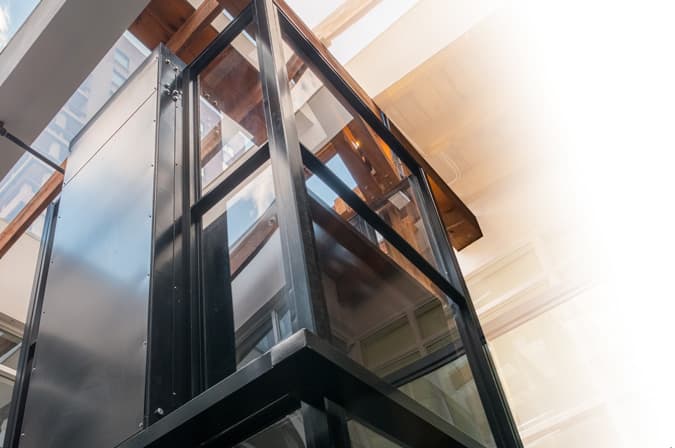 Enclosed
Vertical Platform Lifts
When a wheelchair lift is needed outdoors and protection from the elements is desired, an enclosed vertical platform lift (VPL) provides convenient accessibility.
An enclosed VPL is also suitable for indoor use, including spaces where high travel is needed – so long as the lift does not need to penetrate any floors as they are typically fire barriers. Enclosures can vary from basic aluminum panels to acrylic or luxury glass, but they are never fire rated. Common indoor applications are to access a stage or mezzanine level, or to simply go up a few lobby steps.
All Savaria enclosed vertical platform lifts (VPLs) can be ordered in configurations suitable for commercial use - and ADA compliance in buildings such as schools, places of worship or professional offices. They are also suitable for residential use.
Enclosed VPLs are operated by constant pressure buttons to move the lift up and down. An elevator is a fully automatic alternative; Savaria offers home elevators as well as LU/LA elevators for commercial use.
V-1504 Enclosure
Up to 4 stops over 23' of travel (subject to local code); 750 lb capacity
Aluminum, acrylic or glass inserts for enclosure and landing gates/doors; optional domed ventilated roof
Array of optional paint colors
Same-side, straight-through or 90º entry and exit
Swift 20 ft/min, quiet hydraulic system; no machine room needed
V-1504 Prestige
For 2 stops, up to 6' of travel; 750 lb capacity
Framed model for 3 stops and up to 12' of travel
Built from half-inch structural tempered glass; no visible frame on models up to up to 6'
Array of optional paint colors for tower
Same-side, straight-through or 90º entry and exit
Swift 20 ft/min, quiet hydraulic system; no machine room needed
V-1504 Lux
Up to 4 stops over 23' of travel (subject to local code); 750 lb capacity
Beautifully framed in stainless steel with glass inserts; doors or gates available with inserts; optional domed ventilated roof 
Array of optional paint colors for tower
Same-side, straight-through or 90º entry and exit
Swift 20 ft/min, quiet hydraulic system; no machine room needed
Multilift Enclosure
For 2 stops, up to 6' of travel; 750 lb capacity 
Aluminum, acrylic or glass inserts for enclosure and landing gates/doors; optional domed ventilated roof
Same-side, straight-through or 90º entry and exit
Affordable and reliable ACME screw drive housed in tower; 8 ft/min speed
Not available for commercial use in Ontario