inclusive
public spaces
Commercial Accessibility
Lifts and elevators for full accessibility
If you need accessibility for your commercial building, place of worship, school or any public building, Savaria can help you find the best solution. The most suitable product takes into consideration your site-specific requirements such as whether the lift will be positioned indoors or out, how far the lift needs to travel, and if you need to meet ADA requirements. 
Your local Savaria dealer will consult with you to ensure that your lift meets all local code requirements. A site assessment will allow the dealer to provide you an accurate quotation for the proper installation of the lift. 
To get ideas about what solutions might be right for you, you can get started if you already have some information about your site. Read more about what's involved in selecting an appropriate solution. 
Discover a world of beautiful accessibility
Our new, interactive product guide is a showcase of the Savaria® suite of wheelchair lifts and LU/LA elevators that includes fun polls, specifications and quick links to BIM objects and CAD drawings so you can access the tools you need to incorporate stunning accessibility into your projects. Get the guide.
Choosing capacity
If you are looking for a product that has a high capacity and can accommodate multiple passengers, the Savaria Orion LU/LA elevator is an excellent choice as it is rated for up to 1400 lb.
Many commercial and public buildings use a vertical platform lift (VPL) for accessibility. A VPL is generally rated for 750 lb capacity which is appropriate to carry one user with a manual or powered wheelchair and an attendant. Some models, such as the Savaria Prolift, can accommodate up to 1400 lb.  
An inclined platform lift (IPL) travels over the stairs and has a slightly lower capacity than a vertical platform lift (550 to 660 lb). The lift can carry one person in a manual or powered wheelchair.
Motorized devices such as power wheelchairs and scooters can be heavy without the user, and must be factored into the capacity needs of platform lifts.
A stairlift, which requires a person to travel without the wheelchair, can accommodate up to 350 lb. A stairlift must be used by someone who can safely sit and get on and off the chair.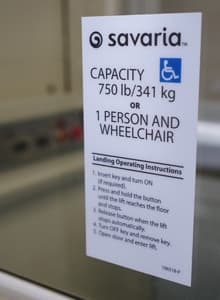 ADA and accessibility considerations
ADA (Americans with Disabilities Act) standards provide guidelines for public spaces, so that your lift or elevator can be used by someone with a physical limitation. ADA guidelines generally only apply to US federal buildings; for most other projects in the US, the International Building Code (IBC) accessibility guide A117.1 applies and provides more flexibility in terms of product choice, particularly for the use of LU/LA elevators in new construction. In Canada, the standard is B651.
All Savaria wheelchair lifts and LU/LA elevators are available in configurations to meet accessibility requirements. These include minimum platform or cab sizes, which vary depending on product type and entry/exit configurations. Other requirements include the location of call stations, entry/exit clearances (usually 5'), a hands-free phone on vertical platform lifts and accessibility (LU/LA) elevators, minimum landing door width and automatic door requirements for vertical platform lifts, as well as ramp angle ratios for all platform lifts. 
Your architect or local Savaria dealer will be able to advise you which accessibility guidelines apply to your project, and the product configuration needed to comply.
Stops & travel distance
A LU/LA elevator can service up to 6 stops, and is limited by code to 25' of travel.
Often, wheelchair lifts are built to serve 2 stops – so taking you from point A to point B only. Some models are available to serve up to 6 stops over a maximum travel distance of about 23 feet, depending on local code.
The travel distance is measured from the lowest landing to the bottom of the top landing. The maximum travel distance is specified by applicable code. For example, a vertical platform lift cannot travel more than 14' when in a shaftway or enclosure. An unenclosed lift cannot travel more than 5' (ASME 18.1 code).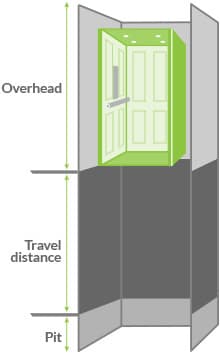 Enclosure, open or in a hoistway?
Vertical platform lifts (VPLs) are available in several styles. The best option for the project depends on a few factors, such as travel distance, whether the lift is indoors or out, and if protection from the elements is desired.
An unenclosed model is an economical option for low-rise travel up to 60". This style works well for interior commercial applications adjacent to short flights of stairs as it requires less space than a ramp. It is also suitable for outdoor use to access the porch or deck on the exterior of a building. Unenclosed lifts can also be used to access a stage.
A VPL with an enclosure built by the lift manufacturer is ideal for outdoor applications, especially when equipped with a domed roof. The enclosure can be built 3-sided to attach to and penetrate a building's exterior wall. Enclosed VPLs can be used for interior applications, and are often seen attached to a mezzanine; however, they cannot penetrate a floor since the enclosure isn't fire rated.
Some VPL models can be placed within a shaft or hoistway made by a general contractor. Small unenclosed cabs are popular for this application, or lifts such as the Prolift or V-1504 can be designed with an enclosed cab to emulate the feel of an elevator. Shaftway model VPLs are ideal for use when penetrating a floor that has a fire barrier, and are a cost-effective alternative to a limited use/limited application (LU/LA) elevator.
Constant pressure vs fully automatic operation
Vertical and inclined platform lifts operate using constant pressure controls. This means that a person in the lift must press and hold the controls for the lift to move up or down. A fully automatic solution, such as the Savaria Orion LU/LA elevator, allows a passenger with limited mobility in hands or arms to operate the lift independently.
Types of drive systems
Screw drive: simple technology that may be less costly; often used in low rise accessibility lifts.
Hydraulic: typically faster, smoother, quieter performance than screw drive; robust and durable with easy emergency manual lowering capabilities.
Geared traction: ultra-quiet operation with an eco-conscious design that is energy efficient and requires no hydraulic oil; suitable for more frequent trips than hydraulic drive.
Rack and pinion: simple, sturdy and economical drive used mainly for straight inclined lifts and stairlifts; typically, all drive components will be housed on the carriage eliminating the need for a cabinet or controller box.
Rope sprocket: flexible design used mainly for curved inclined lifts.
Platform entry/exit configurations
Vertical platform lifts and LU/LA elevators can be configured in different ways to allow entry and exit points on different levels (stops). The images below illustrate the various options. Some come configurations are not available on all products.



Fire rating
Fire rating requirements are dictated by local building codes. Typically, when penetrating a floor in commercial setting a fire-rated shaft and product will be required. Savaria lifts are available with fire rated doors and materials; your Savaria dealer will be able to advise you which products and options are needed to comply with local code.
Construction
Lift installations generally require work by other trades to prepare the site. Savaria offers planning guides and architectural drawings that detail work by others including clearances required, support wall construction parameters, pit floor load requirements and specific electrical needs and disconnects. Local building code may also dictate how a lift can be installed.
It is wise to involve your Savaria dealer early in the project to ensure the infrastructure for the lift is built correctly.
Find possible solutions
Select from the options listed on the left. 
If there aren't products that meet all of the requirements you have selected, contact your local Savaria dealer to confirm if there is a product that will meet your needs.