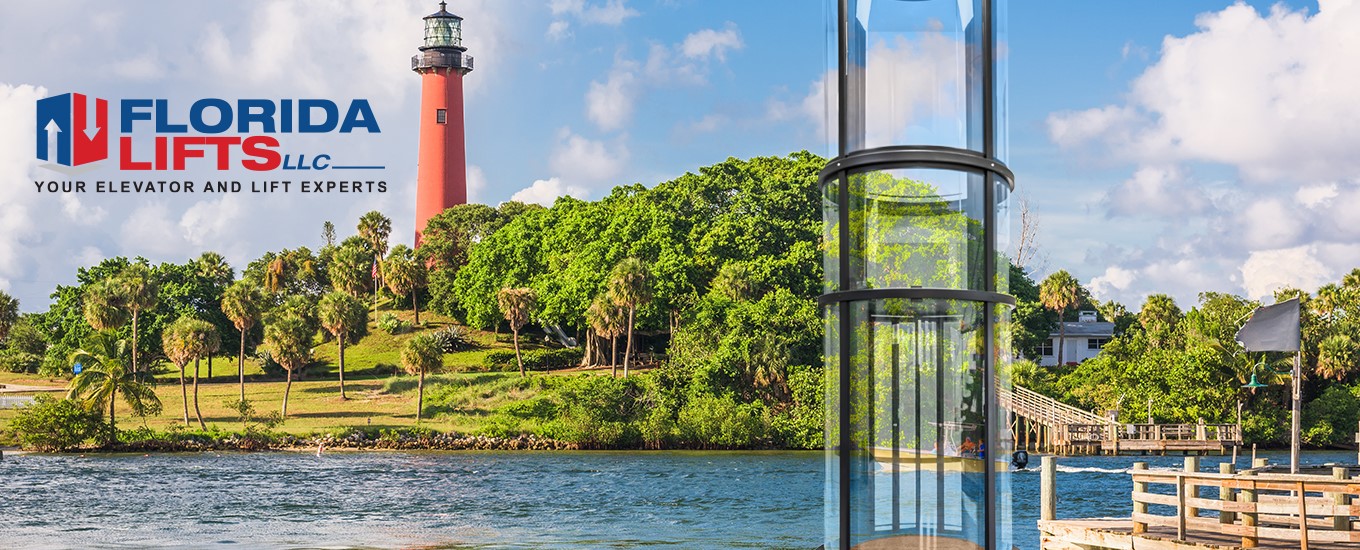 Serving the Sunshine State
"I invite you to visit our beautiful new showroom so you can try our products for yourself"
– Kyle Filer, General Manager
We help raise up Floridians by providing accessibility, flexibility, convenience and reliability. Florida Lifts has been installing and servicing elevators and lifts for almost 15 years, completing hundreds of installations each year. With a complete suite of residential and commercial elevators, wheelchair lifts, stairlifts, dumbwaiters and material lifts, we help make life easier throughout Florida from Orlando to Tampa, to Key West.  
For your home
Whether it's your winter refuge or year-round residence, enjoy the stunning aesthetics of the panoramic Vuelift elevator—sure to become a focal point of any home's design. Get convenience, safety and mobility at home with a product line-up ranging from traditional home elevators to wheelchair lifts and stairlifts for both straight and curved staircases. We listen to your current and future needs and help you select the right solution for years to come.
For your public or commercial building
Accessibility in commercial and public spaces is an important part of life in Florida, a state with 20% of the population over the age of 65. Our range of products—from accessibility (LU/LA) elevators for low-rise buildings, retail outlets, schools and places of worship to wheelchair accessibility lifts for indoor and outdoor applications—can help you ensure your customers and guests enjoy a welcoming, safe, code-compliant and modern experience that will keep them coming back.
What's In-Store?
Our new and expanded showroom features select products from our complete Savaria portfolio. From the opulence of the fully functional Vuelift Octagonal panoramic glass home elevator, to traditional elevators, wheelchair lifts and stairlifts, a visit to our showroom lets you touch and feel units in action and make an informed decision about the right product for your home or project.

Check out our sample wall to see an array of options for finishing your traditional home elevator of commercial elevator. From high-quality hardwood to modern and sleek luxury MDF, we have a great range of selections on offer to let you express your own style.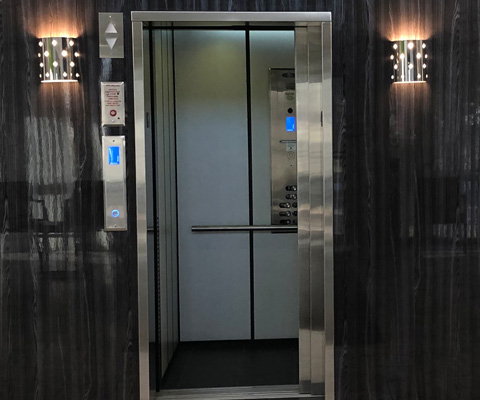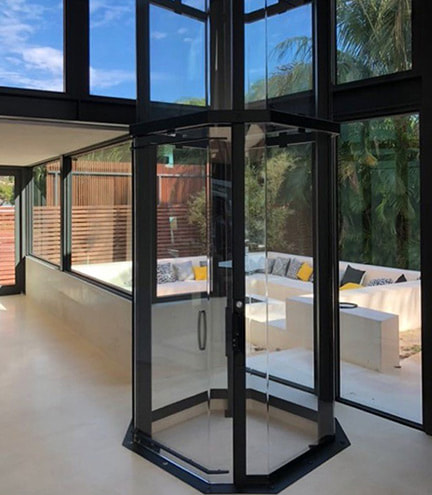 Access wow-factor
Elevate your home design with our signature Vuelift panoramic glass home elevator. Choose from the sleek cylindrical style of the Vuelift Round, the chiseled facets of Vuelift Octagonal, or the small footprint of the new Vuelift Mini.

With stunning aesthetics and incredible floorplan flexibility, the Vuelift provides mobility and convenience that's luxury on the next level.
Let's talk accessibility
Our V-1504 range of vertical platform lifts are designed to carry a wheelchair user and a passenger up to four stops or 23' of travel (14' for commercial applications). Choose the Prestige or Lux models for the ultimate in design and accessibility. These lifts can be used both indoors and out to make your facility wheelchair accessible and ADA-compliant.

The Savaria Orion MRL commercial elevator combines high-rise look and feel and cost-effective accessibility. This ultra-quiet limited use limited application (LU/LA) elevator is ideal for low-rise buildings for up to 25' of travel.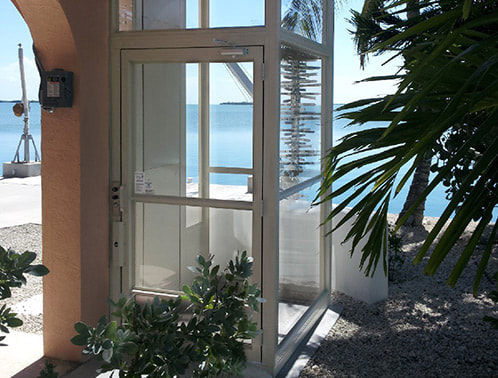 Ensure Code Compliance
We're experts in ASME17 and ASME18, as well as ADA requirements. Let one of our lift experts evaluate your elevator to ensure it's compliant with all the latest codes. If your lift has already failed inspection, call us and let us take care of bringing the lift back up to standard for you. We are proud members of the National Association of Elevator Contractors (NAEC) and the Accessibility Equipment Manufacturers Association (AEMA).
Extend Service Life
Stay operational. Our trained and licensed technicians provide both regularly scheduled maintenance and repairs. We can also help you give an older lift a new life.  Furthermore, we modernize older Savaria, Concord and Garaventa equipment to make it run like new.
BOOK APPOINTMENT
Contact us to make an appointment for a free consultation at our location or yours.
(800) 989-3237 
Email: info@floridalifts.com
HOURS
Monday to Friday 8:00 am - 5:00 pm (Saturday and Sunday - by appointment only)
SERVICE
(800) 989-3237 ext. 1
AT THIS SHOWROOM
Savaria Vuelift Octagonal, Vuelift Mini, Eclipse, Infinity and Garaventa Elvoron MR home elevators. Savaria Orion MRL commercial elevator. V-1504 enclosure vertical platform lift. Garaventa Artira inclined platform lift. K2, K2 Plus and Stairfriend stairlifts.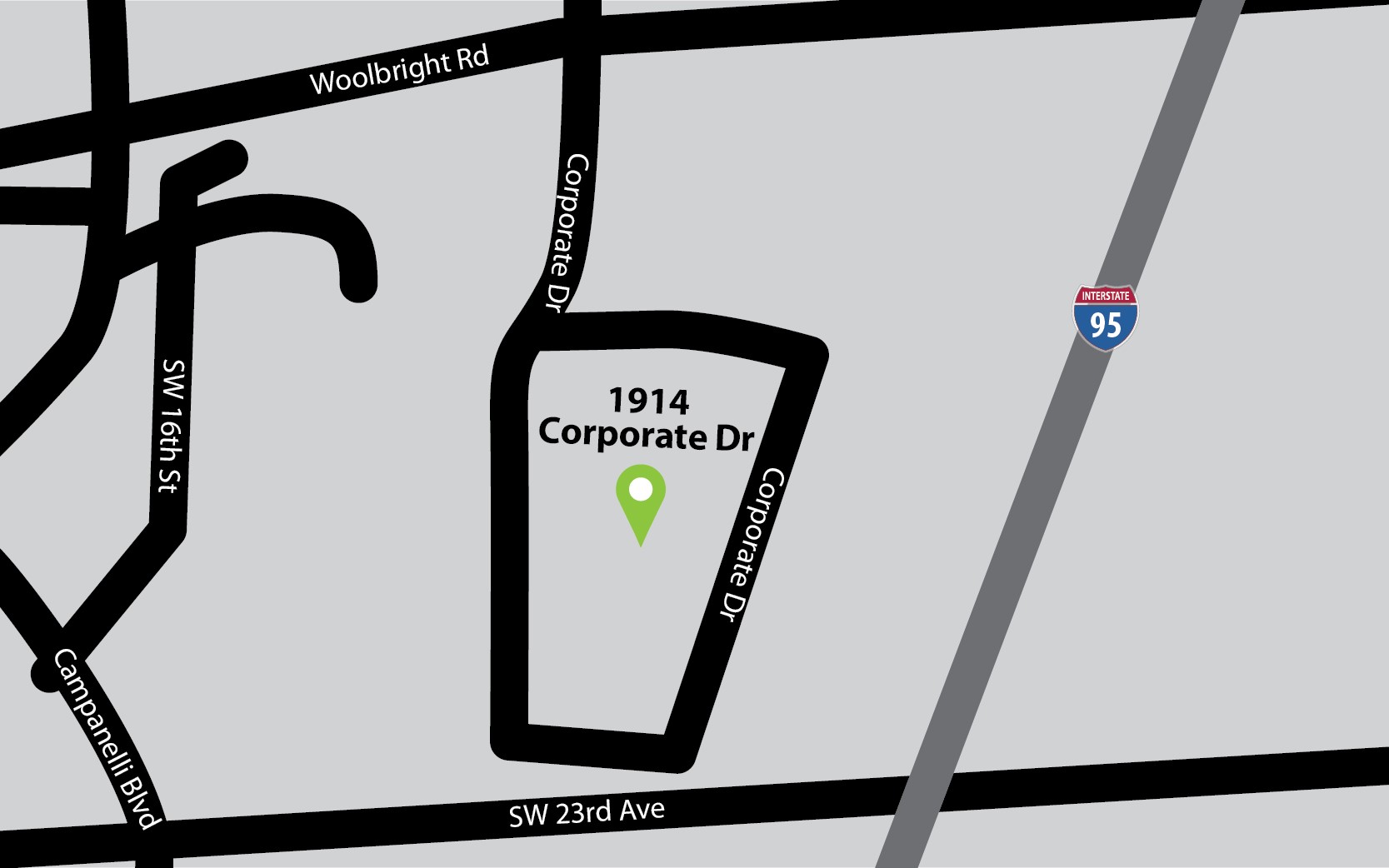 Residential and commercial solutions
Home elevators
Add value and convenience to your home. From traditional to ultra-modern, our range of residential elevators mean there is something for your décor, your budget, your lifestyle and your floorplan.
Commercial elevators
Whether you need a simple LU/LA or a more robust traction, hydraulic or MRL elevator we can provide you an excellent choice to elevate your project.
Wheelchair lifts
We offer a full range of aesthetically pleasing inclined platform (IPL) and vertical platform lifts (VPL) for both indoor and outdoor applications at homes, buildings, schools, churches and restaurants.
Stairlifts
For people with who live with mobility challenges and find stairs a struggle, stairlifts are a cost-effective option that can usually be installed in just a few hours.
Material lifts
Get fast, efficient, convenient and safe movement of goods to/from mezzanines, balconies, basements, and between levels in multiple story buildings. Perfect for through-floor, interior or exterior applications. For bigger jobs, ask about our material lifts from Pflow.
Dumbwaiters
Save time, space, energy and can help avoid workplace injuries. Automatic dumbwaiters are an economic vertical lifting solution for moving materials like food, dishes or books in a multi-level environment. For commercial or residential applications, we will have the perfect model to propose to you.
Stay in your home for life
You love your home and never want to leave it. Our consultants can work with you to help prepare your mobility plan for aging-in-place. From simple stairlifts to full-fledged, wheelchair-accessible residential elevators, we listen to your current needs and future concerns to help you pick a solution that will help you stay in your home.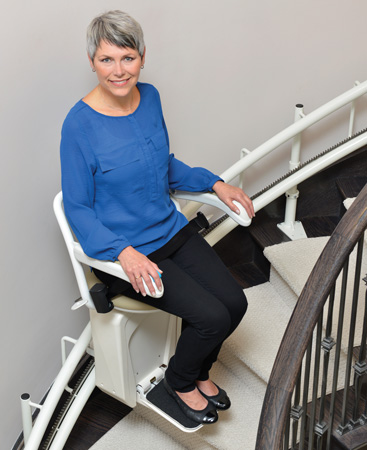 Access Luxury
Create signature style with stunning aesthetics. The Vuelift series of panoramic residential elevators add value to a single-family, urban townhome or penthouse condo. Enjoy a 360-degree view that's as impactful as the exterior design. Complement interior décor with customizable, powder-coated frame colors. Make a statement that will get your friends talking—all with the convenience of skipping the stairs.
Architect and builder partnerships
Your project is your vision come to life. We can work with you from the design stage to final installation and inspection. We have a long history of helping home builders add value and differentiation to their developments through residential elevators, and we have the installations to prove it.
For commercial architects and designers, we help with product selection, code compliance and ADA requirements. We also offer courses accredited by the American Institute of Architects (AIA) for one HSW learning unit.
Call us to arrange for a training session for your staff in the convenience of your own office.
Guide to Home Elevators
Accessibility Design Standards for Vertical and Inclined Platform Lifts & LU/LA Elevators
Introduction to Vuelift Elevators