Raising the DMV area for over 30 years

Comfort and convenience, aesthetics and accessibility. We understand what they mean to your home, your building or your public space. We also understand the unique cultural and architectural drivers in the Washington DC/Maryland/Virginia (DMV) region, because we've been in business here for over 30 years. With thousands of elevators, wheelchair lifts and stairlifts installed and serviced by our experienced and skilled technicians, Savaria USA's Premier Lifts is uniquely positioned to elevate your project.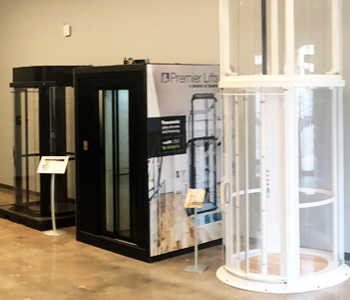 Smart choices at home
Whether they have an immediate mobility need or are planning for an aging-in-place future, homeowners, builders and developers understand that home elevators are a smart choice. And with a model line-up ranging from basic to luxury, we have a style, footprint and feature set for your floorplan, your lifestyle and your budget.
Welcoming spaces at work
Whether you need to meet specific ADA requirements, or are simply looking to provide accessibility for your tenants, customers or visitors, we can recommend the correct lifting solution for your building. All of our technicians are CAT-certified and up-to-date with all elevating code requirements and safety compliance.

COVID-19 NOTICE
Your safety is our priority. We're taking extra precautions and following state best practices and municipal bylaws, including physical distancing and mask use to ensure our customers and employees stay healthy.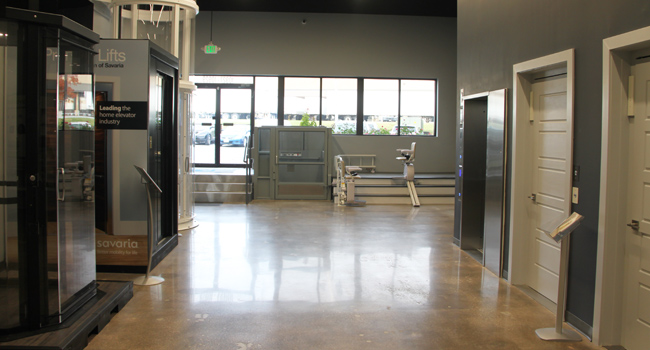 What's on display today?
Seeing is believing. Visit our showroom to test ride a variety of residential elevators, LU/LA commercial elevators, vertical platform lifts and inclined platform lists, and straight and curved stairlifts.
You can also explore our range of finishing options, gates and doors.
Spotlight on Orion
This fully automatic elevator combines a modern high rise look and feel with simpler installation requirements compared with a full-sized commercial elevator.
With a 1,400 lb capacity, it handles low rise (3-story) applications exceptionally well, making it an easy answer to accessibility for schools, medical offices and restaurants.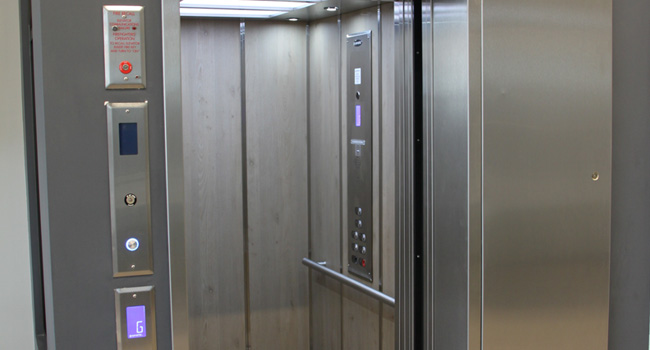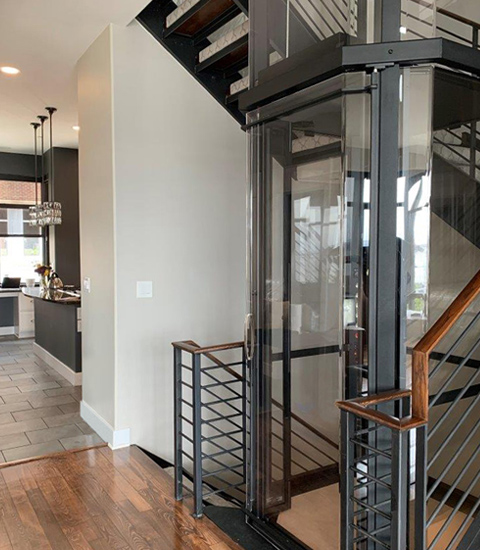 Enjoy the Vue
Add a little wow-factor to your home. This gorgeous panoramic glass or acrylic elevator with integrated hoistway packs an aesthetic punch.
Available in round, octagonal and small-footprint configurations, the Vuelift line provides flexibility of placement in the floorplan and an accelerated construction timeline.
Residential and commercial solutions

Home elevators
Whether building a new house or retrofitting an existing home for enhanced convenience, mobility and aging-in-place, our line of residential elevators has something to suit your floor plan—and your lifestyle.

Commercial elevators
Accessibility, reliability and versatility. Our suite of LU/LA elevators for low-rise buildings mean your guests always feel welcome. Get the look and feel of a high-rise elevator in a more affordable package.

Wheelchair lifts
With many models to choose from, we offer a lift for almost every application. Choose from vertical platform lifts (VPL), inclined platform lifts (IPL), and even units that can accommodate curved or winding staircases.

Stairlifts
Stay safe and ride in comfort. These cost-effective lifts help improve quality of living. Our range includes models that can accommodate straight stairs, as well as stairs with curves or intermediate landings.

Material lifts
Keep employees happy, materials moving and business booming. Our durable line of freight-only lifts help improve efficiency, productivity, ergonomics and workplace safety in restaurants, retail stores and small industrial businesses.

Dumbwaiters
Dumbwaiters allow safe and seamless transfer of materials. Perfect for restaurants to move food from kitchen to dining room, or at home to shift items  from one level to the next.
PUBLIC SHOWROOM 
Open to the public Monday to Friday 9-5pm
We are taking additional safety precautions due to COVID-19. Mask use by all employees and guests is mandatory while visiting our showroom, by order of the Governor of the State of Maryland.
SITE ASSESSMENT
To book a site visit, please contact a sales consultant.
1.800.688.6116
AT THIS SHOWROOM
Eclipse home elevator, Infinity (hydraulic) home elevator, Vuelift Octagonal acrylic home elevator, Vuelift Round acrylic home elevator, Orion (LU/LA) MRL elevator, V-1504 vertical platform lift, Delta straight inclined platform lift, Stairfriend curved stairlift, K2 straight stairlift.