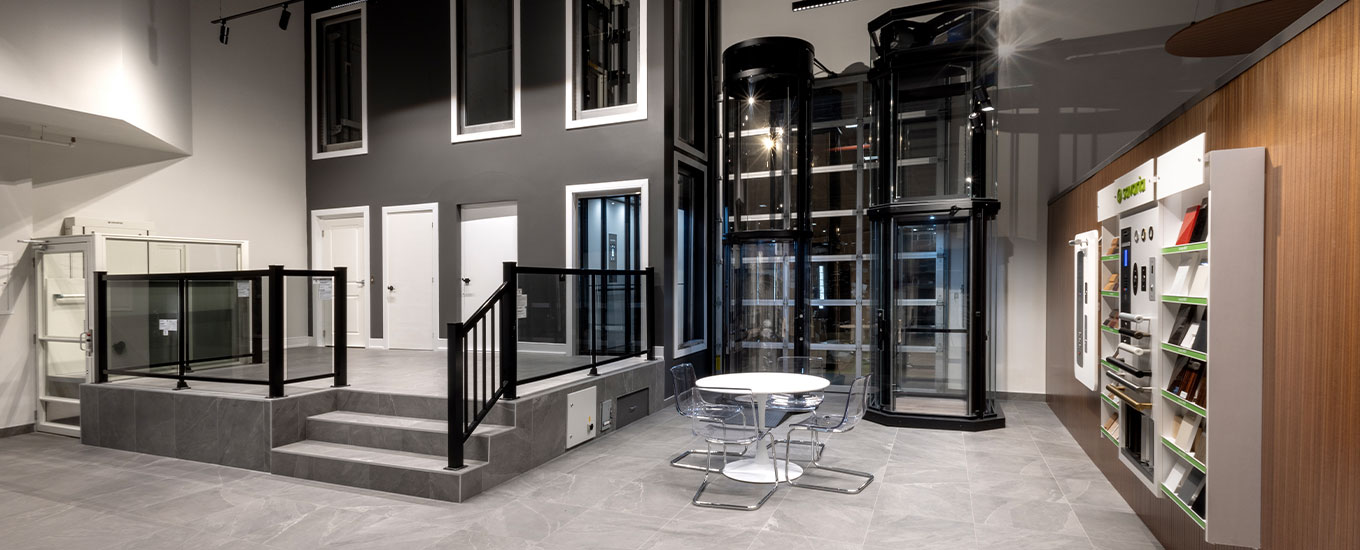 Elevating ideas for Ontario
"A visit to our Brampton showroom is the perfect place to start". Eric Bishun, General Manager
Our Ontario direct Savaria sales office sells and installs home elevators and commercial wheelchair lifts throughout most of the province. Our professional staff are here to collaborate with you and find the right solution for your needs. We invite you to visit our showroom to explore our range of products, gather ideas and discuss your elevator or lift project requirements with our experienced staff.
For your home
In  our  showroom, you can see and try the Savaria Vuelift glass elevator with integrated glass hoistway. Its wow-factor design offers a choice of round or octagonal shape in clear glass or acrylic. Ideal for your luxury home or cottage – we'd love to show you "the Vue". You can also ride the all-new Zenith elevator featuring exceptional ride quality; the traditional Infinity hydraulic, or our geared chain drive Eclipse model. Each can be customized to suit your needs from standard to custom finishing.
For your public or commercial building
We've installed hundreds of commercial lifts and LU/LA elevators throughout Ontario, likely more than any company. Our lifts are in schools, places of worship, restaurants, hotels, office buildings, medical centres and more. We're TSSA registered and ready to assist you to make your building wheelchair accessible. Our showroom has a working V-1504 hydraulic wheelchair platform lift, as well as a Prestige glass and stainless vertical lift. For over-the-stairs needs, we can demonstrate the Omega inclined platform lift.
Accessibility elevator with style
If your commercial space requires an accessibility elevator, the Savaria Orion may be the ideal fit. Suitable to handle up to 3-story buildings, this fully automatic elevator offers high rise style in an affordable and stylish package. We've installed many of these units throughout Ontario and you can see and try one at our showroom location.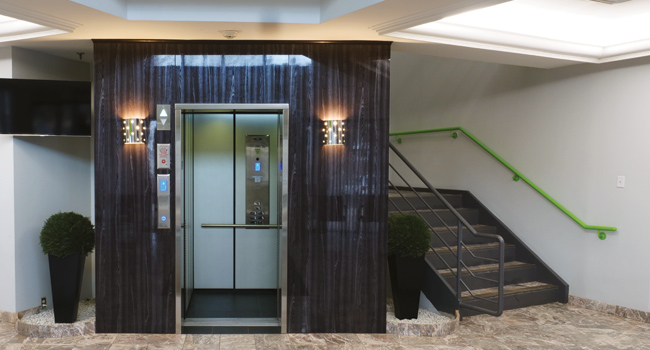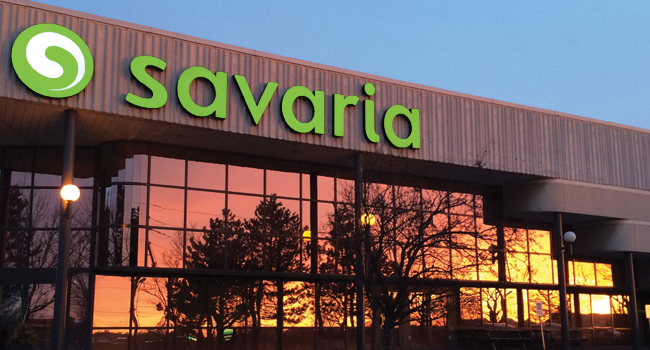 How it's made
The adjacent Savaria factory is where much of the magic happens to create your custom elevator or lift. We're lucky to be this close and it delivers our clients industry-leading production time. You'll also find us flexible to your customization requirements for colours and finishes. And, yes, this factory really was featured on the popular TV series, "How's It Made".
And now for the fun stuff
We admire the "have it your way" slogan. Choose your home elevator cab material and fixture finishes from our design centre wall.  From modern to traditional and all that's between, we aim to please with plenty of choice.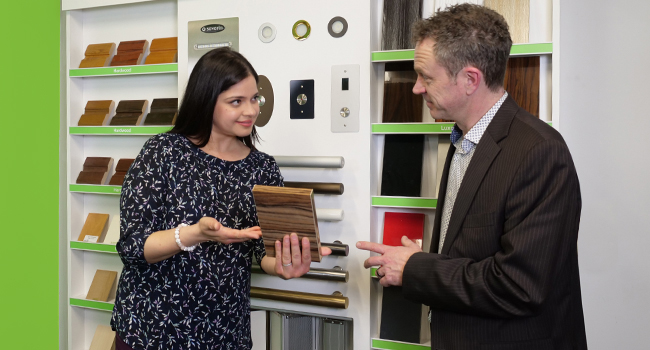 PUBLIC SHOWROOM 
Monday to Friday 9-4pm
BOOK APPOINTMENT
For the showroom, weekend appointment, or
at-site visit please call us at 1.855.Savaria (1.855.728.2742)
SERVICE
905.943.7683, Monday to Friday 8-5pm
AT THIS SHOWROOM
Savaria Vuelift Octagonal, Zenith, Eclipse, Infinity home elevators. Savaria Orion LU/LA elevator, V-1504 vertical platform lift, Omega inclined platform lift.
Service, Maintenance and Modernization
For your convenience, we offer residential maintenance services under contract to keep your equipment in good operating order. Commercial installations must have regular maintenance contracts and we can also offer emergency service contracts for complete peace of mind.
Our modernization services can upgrade both the drive systems and the appearance of your elevator extending its life for years to come.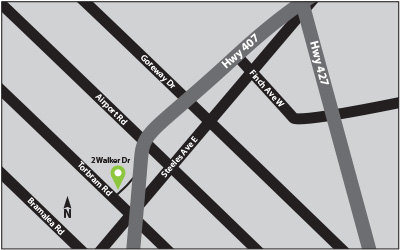 Residential and commercial solutions
Home elevators
A wide variety of residential elevator models with a great selection of finishes. The Savaria Vuelift is an extraordinary glass elevator with integrated glass hoistway. 
Commercial elevators
Accessible elevators (LU/LA) with fully automatic access ideal for low-rise commercial buildings such as schools, churches, retirement homes, restaurants or any public building.
Wheelchair lifts
Vertical platform lifts (VPL) suitable for home or commercial use with extensive customization options including glass and stainless finishing. Inclined platform lifts (IPL) for access over stairs, often used in schools, or older buildings for on-demand access.
Material lifts
Freight-only lifts for commercial use such as restaurants, bars, retail, veterinarian or light industrial applications.
Maintenance packages
We make it easy to maintain your elevator with our service packages. Choose from 4 options that vary from 1 to 5 years of  coverage. You'll receive your first visit for free after 3 months, along with annual testing. Regular maintenance labour is covered in the plan according to the number of visits in your package. Our Platinum package includes 24/7 emergency service with no extra fees.  For complete details about our maintenance and service packages, speak to one of our sales consultants, or our service manager.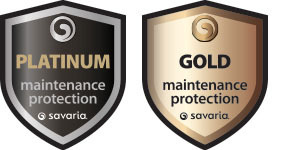 Expertise you can trust
Our staff receive the best training in the industry. All of our installers are expertly trained: they have either completed, or are undertaking, a 4-year apprenticeship program that includes 8000 hours of field training. We are also registered with the Technical Standards & Safety Authority (TSSA) and undertake ongoing TSSA-accredited continuing education. This ensures that your Savaria product is installed correctly and in compliance with current safety standards, for reliable performance you can count on. 
Not only can you trust us to deliver, you can trust that we will be there for you for years to come, backed by the strength and stability of a global accessibility leader, Savaria Corporation.
Architect and builder partnerships
From single custom homes to multi-unit projects and commercial developments, we are here to work with you and your team from the planning stages to the final installation and turnover to the client. Our sales consultants are technically knowledgeable and have a wide range of project expertise. 
If you are an architect and want to learn more about adding a home elevator to a project, or about accessibility design standards for public spaces, we offer two courses that meet the continuing education requirements of the Ontario Association of Architects.
Call us to arrange for a training session for your staff in the convenience of your own office:
Guide to Home Elevators
Accessibility Design Standards for Vertical and Inclined Platform Lifts & LU/LA Elevators
We are a proud member of the following organizations: