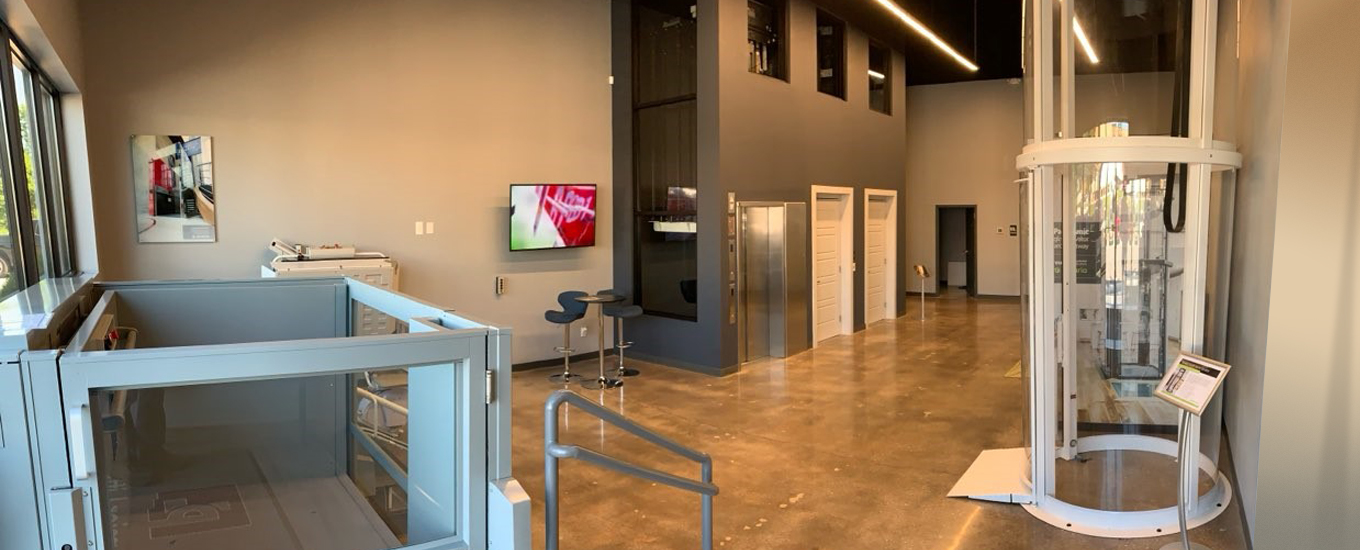 Elevators & Lifts for Virginia, Maryland
and Washington DC
"Our must-visit showroom offers one of the most comprehensive selections of home elevators and accessibility lifts in the country. I invite you to come by and experience all we have to offer."
Oliver Perry, General Manager

Premier Lifts has been in business for over 30 years and has installed thousands of residential elevators and commercial wheelchair lifts throughout the Virginia, Maryland and D.C. regions. In 2017, we became a division of Savaria USA after many years of being a top tier Savaria dealer. We are proud to sell, install and service the full range of Savaria products. Our staff are an amazing team of technically experienced, skilled people who ensure exceptional quality at every turn of a project.
It would be our pleasure to work on your project.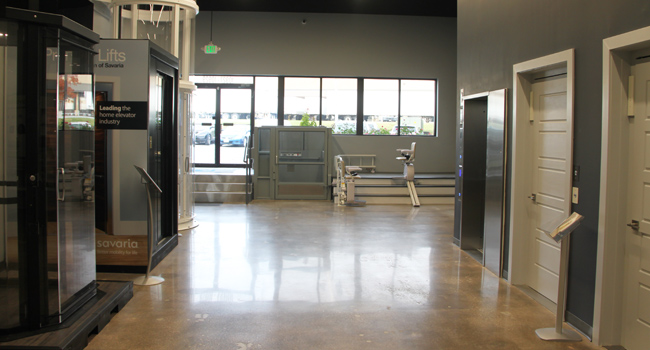 Showcase showroom
Our spacious showroom is home to an outstanding selection of products including four different home elevator models. See our wide range of finishing options on display, along with our design center wall. Try the ride, choose gates and doors and collaborate with our sales consultants to find the perfect choice just for you.
You will also find commercial products here including the Orion LU/LA elevator, the V-1504 vertical platform lift and the Delta inclined platform lift. Find out about all of our Savaria home accessibility products from vertical lifts to our straight and curved stairlift products.
Spotlight on Savaria Orion
The Savaria Orion elevator is a top-selling solution for commercial accessibility applications. A fully automatic elevator with a modern high rise look and feel, this elevator has simpler installation requirements than a full sized commercial elevator. It handles low rise (3-story) needs with up to a 1400 lb capacity making it well suited for schools, medical offices and restaurants. Premier Lifts offers this elevator with traditional and machine roomless technology.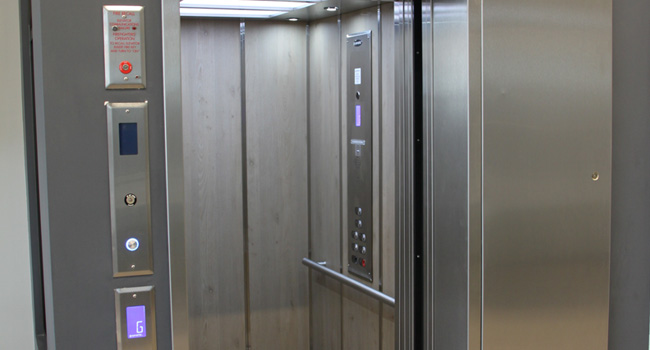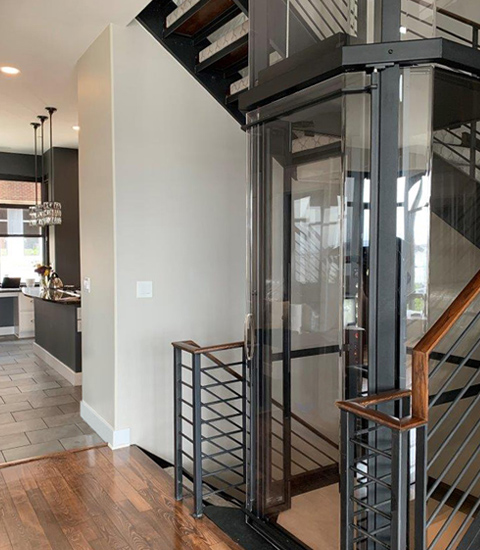 Now that's an incredible Vue
In a league of its own, the Savaria Vuelift is a gorgeous panoramic glass or acrylic elevator with integrated hoistway. To really get it, you need to come by our showroom and see it in person. We have both the round and octagonal models in our showroom.
The Vuelift elevator is ideal for homes with a view, but you will also find the Vuelift offers remarkable flexibility for installation centrally in the home including access to balcony area or centred in a spiral or open style staircase. If you want the ultimate home elevator, this is it and we'd love to show it to you.
PUBLIC SHOWROOM 
Open to the public Monday to Friday 9-4pm
BOOK APPOINTMENT
For the showroom, weekend appointment, or
at-site visit please call us at 1.800.688.6116
SERVICE
1.800.688.6116, 24/7 line 
AT THIS SHOWROOM
Home elevators: Eclipse, Infinity (hydraulic), Vuelift Octagonal, Vuelift Round
Commercial elevators: Orion (LU/LA) MRL
Wheelchair lifts: V-1504 vertical platform lift, Delta straight inclined platform lift
Stairlifts: Stairfriend (curved), K2 (straight)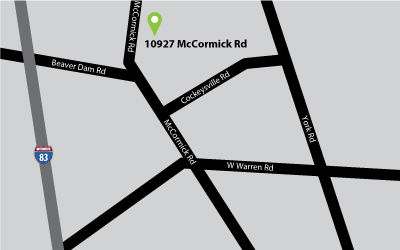 Residential and commercial solutions
Home elevators
Whether building a new house or retrofitting an existing home for enhanced convenience, mobility and aging-in-place, our line of residential elevators has something to suit your floor plan—and your lifestyle. For wow-factor aesthetic impact, check out the Vuelift series of glass and acrylic elevators.
Commercial elevators
Accessibility, reliability and versatility. Our suite of LU/LA elevators for low-rise commercial and public buildings mean your guests always feel safe and welcome. Get the look and feel of a high-rise elevator in a more affordable package, with automatic two-speed sliding doors and durable commercial-grade fixtures.
Wheelchair lifts
With many models to choose from, we offer a lift for almost every application. Choose from vertical platform lifts (VPL) for short-distance access to a home or commercial space, inclined platform lifts (IPL) for access over stairs, and even units that can accommodate curved or winding staircases.
Stairlifts
Stay safe and ride in comfort. These cost-effective lifts help improve quality of living for those who use a mobility device or simply struggle navigating stairs. Our range includes models that can accommodate straight stairs, as well as stairs with curves or intermediate landings.
Material lifts
Keep employees happy, materials moving and business booming. Our line of freight-only lifts help improve efficiency, productivity, ergonomics and workplace safety in restaurants, retail stores and small industrial businesses. Made from durable stainless steel with a capacity up to 1000 lb and flexible platform sizes.
Dumbwaiters
Our dumbwaiters help take the load off, allowing a safe and seamless transfer of materials between floors. Often used in commercial settings like restaurants to move food from kitchen to dining room, or at home to shift items like laundry from one level to the next.
Smiling service
At Premier Lifts, you really do get service with a smile. Our maintenance and service team looks forward to keeping every unit in top running order. An elevator or lift that is maintained properly will provide many years of reliable service. We offer 24/7 service plans as well as contracted maintenance programs for all products we sell.
We service all Savaria equipment, as well as any other manufacturer's product installed by Premier Lifts. Looking to modernize an older unit? Give us a call to discuss both aesthetic and technical upgrades that are possible for your unit.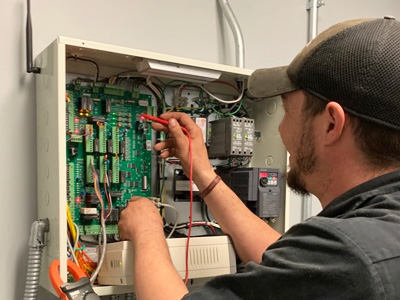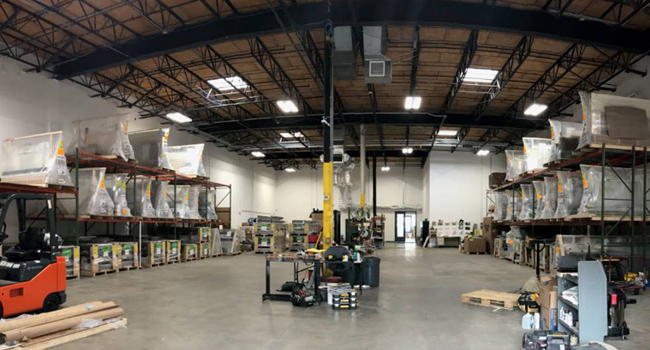 Our facility
In addition to our showroom, our facility includes a bustling, well organized warehouse. This allows us to secure and safely store products ahead of time so we can be nimble for tight or changing deadlines. And, we can answer the call for urgent needs such as a stairlift installation within 24 hours.
A word about C.A.T.
The Certified Accessibility Technician (CAT) designation is a comprehensive program that requires the technician to complete classroom hours, two years of job training and the successful results for testing on code knowledge and skills aptitude. The program also requires continuing education each year. Every technician at Premier Lifts is CAT-certified.  We believe in doing the job right, without cutting corners, yet with efficiency and quality. Trust our team to deliver now and for ongoing service.
We serve all of Maryland, Washington, D.C., and Northern Virginia and are licensed accordingly with DLLR (Maryland), DCRA (DC) & DPOR (Virginia).
Although many in-person shows and events have been postponed, it would be our pleasure to offer you virtual demonstrations or webinars for our home elevators and the Savaria Vuelift. Contact us to discuss what works for you.
Architect and builder partnerships
For years, Premier Lifts has been a top supplier for residential builders throughout the region. Known for our project management expertise, we know how to work with various trades to make it come together as planned. As homeowners see the long-term value of including an elevator, builders take note that a home elevator adds value to their project.
If you're an architect interested in knowing more about adding home elevators, or how to integrate them in your projects in a creative way, we offer two presentations on both traditional home elevators and the Vuelift family. 
For commercial architects, we have one education course that covers everything from a wheelchair lift to a LU/LA elevator. These courses are accredited by the American Institute of Architects (AIA) and provide 1HSW learning unit.
Call us to arrange for a training session for your staff in the convenience of your own office. Or arrange to combine your training session with a visit to our facility so you can get your hands on our demo units in the showroom.
Guide to Home Elevators
Accessibility Design Standards for Vertical and Inclined Platform Lifts & LU/LA Elevators
We are a proud member of the following organizations: